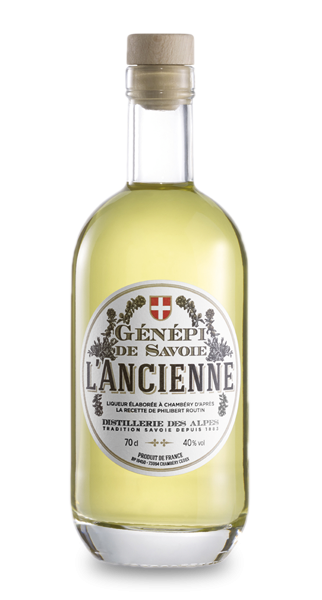 Génépi L'Ancienne has been produced in Chambéry for more than a hundred years to Philibert Routin's recipe.

GÉNÉPI: A UNIQUE-TASTING ALPINE PLANT
Génépi liqueur is obtained from the Alps' best-known aromatic plant, génépi, which belongs to the sage family and grows in the Alps. With the development of tourism and winter sports, the liqueur has become, a symbol of the French Alps.

A PROPRIETARY MACERATION AND DISTILLATION PROCESS
Created in 1893, Génépi L'Ancienne stems from the Distillery's century-old craftsmanship. A careful selection of génépi sprigs, coupled with complete mastery of distillation and maceration times, highlights the plant's intense and subtle flavours, with no hint of bitterness.

OLD-FASHIONED SAVOIR-FAIRE TO PROTECT ITS FLAVOURS
Conscious of the need to preserve its craftsmanship and revive traditional production methods, in 1998 La Distillerie Des Alpes brought back into service its oldest alembic, made in 1901 but unused for more than 50 years.
Génépi L'Ancienne is made in this still, which treats the plants gently and imparts the liqueur's unique and traditional taste.